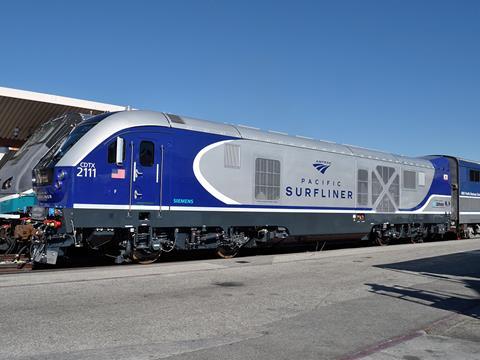 USA: The first Siemens Charger locomotive for Pacific Surfliner services between San Luis Obispo, Los Angeles and San Diego was officially unveiled by Amtrak and Caltrans at Los Angeles Union station on October 1.
Caltrans has ordered a total of 22 Charger locomotives, using about $100m of state, federal and local funds, and the first are already in service in northern California.
The PTC-equipped 4 400 hp Tier 4 emissions certified locomotives will enable California to begin phasing out its EMD F59PHi locomotives, which currently haul 24 trains each day.
'The Charger locomotives are almost 90% cleaner than the locomotives they are replacing', said Bryan MacDonald, Chairman of the LOSSAN transport agency which overseas Pacific Surfliner services on the 560 km route serving 27 stations.