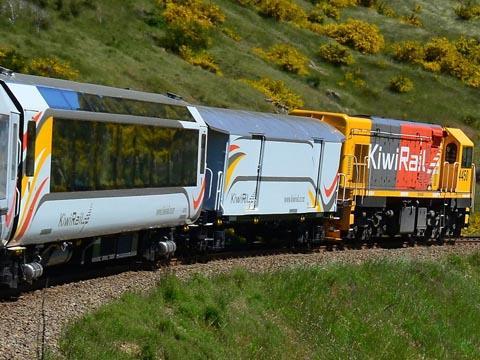 NEW ZEALAND: Panoramic coaches which KiwiRail describes as 'the first carriages entirely designed and built in New Zealand since 1941' have entered service on the tourist-oriented Christchurch - Picton Coastal Pacific.
A total of 17 vehicles including cafe, viewing and luggage cars are being designed and built at KiwiRail's Hillside workshop at a cost of NZ$40m. They will be used on the Coastal Pacific and TranzAlpine services.
The AK Class cars have 52 m2 of glass in panoramic side and roof windows, ceiling-mounted information screens and GPS-triggered commentary in English, Mandarin, Japanese, German and French. Seats are from local theatre supplier Merje DDM.
'We want to ensure a totally unique experience for our passengers', said General Manager, Passenger Services, Deborah Hume. 'Our focus with these new carriages is on providing a more modern, sophisticated customer experience that people will remember and return to.'