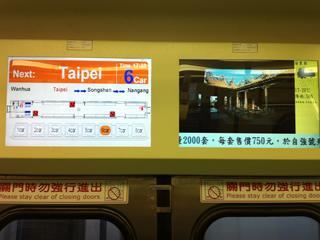 TAIWAN: A replacement passenger information system has been fitted to 20 multiple-units used by Taiwan Railway Administration to provide a shuttle service on the Shalun branch which connects TRA's station on the conventional line in Tainan with Taiwan High Speed Rail Corp's station.
The information system uses LCD screens to provide passengers with advertisements and real-time information about train connections.
Moxa supplied embedded computers which are installed in each coach. One driving car per train is fitted with a V2426 computer which acts as main controller, along with a EPM-3022 serial port module and a touch-screen interface. Each of the other coaches has a V2426 computer with EPM-3552 display module to drive the LCD screens.
Radio links provide real-time updates from the control centre to the train. All the systems are ruggedised to ensure reliable operation on moving vehicles.
The overall cost of the project was NT$24m.