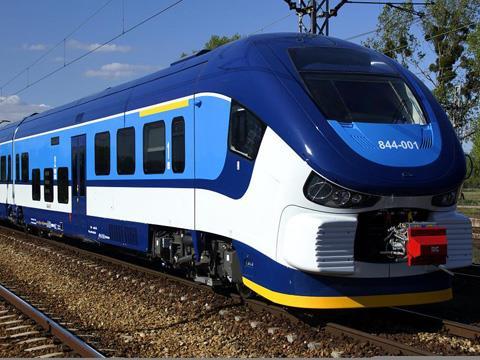 CZECH REPUBLIC: Polish rolling stock builder Pesa Bydgoszcz has rolled out the first of 31 LINK II diesel multiple-units ordered by Czech national passenger operator CD.
The prototype moved from Poland to the Velim test circuit on May 10 to undergo acceptance trials.
The two-car partially low-floor articulated Class 844 units are 43·73 m long. They offer 120 seats, air-conditioning, retention toilets, CCTV, a passenger information system and space for bulky luggage, prams and bicycles. The two 390 kW MTU engines are compliant with EU Stage IIIb emissions standards and give a top speed of 120 km/h.
The first units are scheduled to enter traffic from September. Initial deployment will be on the Plzen - Domazlice route, with Mariánské Lázne - Cheb - Karlovy Vary, Karlovy Vary - Chomutov, Liberec - Ceská Lípa, Kojetín - Kromeríz - Hulín - Valašské Mezirící and routes north of Decín following. Deliveries will run until January 2014.
The KC1·99bn contract for 31 DMUs was signed in March 2011, with 40% of the cost being met by the European Union.