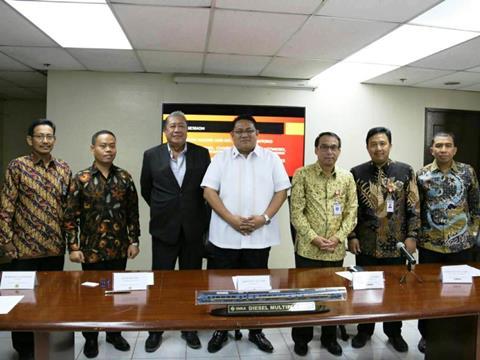 PHILIPPINES: State railway PNR has ordered two diesel-electric multiple-units from Indonesian rolling stock manufacturer PT Inka to boost its Manila suburban service between Tutuban and Alabang.
The 485m pesos deal was signed on January 22 by PNR General Manager Junn Magno and PT Inka President Budi Noviantoro, at a ceremony attended by Department of Transportation Secretary Arthur Tugade and PNR chairman Roberto Tupas Lastimoso.
The three-car DMUs are due for delivery in the third quarter of 2019 for commissioning and testing. According to Magno, this is the railway's first independent procurement of new rolling stock for 40 years, as opposed to equipment supplied under national loan packages or the acquisition of second-hand vehicles. The two units are being funded from a 2015 support package allocated to PNR by the Department of Transportation, in compliance with the Government Procurement & Reform Act.
The deal forms part of a government-backed reliability and availability programme to enhance the capital's commuter services. Out of PNR's current fleet of 21 diesel trainsets, Magno said only six were currently operational, although he hoped to have 10 in traffic by the beginning of February.
'I hope this project will grow and blossom into other projects', said Tugade. 'Our desire is to expand the country's railway system from the 77 km it is today and finish a 1 900 km network during the term of President Duterte.'