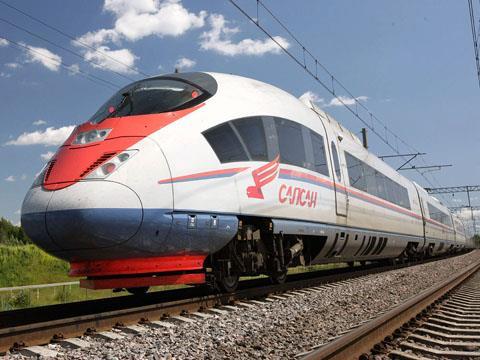 RUSSIA: The Russian government has confirmed its support for a public-private partnership backed by Russian Railways to construct a 658 km high speed line between Moscow and St Petersburg.
Speaking in London on October 20, Denis Muratov, Chief Executive of RZD's high speed rail agency Skorostnye Magistrali, insisted that 'the time to build the line has arrived'. He stressed that the concessionaire would be expected to deliver the line for use by the end of 2017, to enable public services to begin well before the FIFA World Cup football tournament commences the following summer.
Current plans envisage a 1 520 mm gauge line designed for speeds of up to 400 km/h, with high speed trains sharing existing alignments to reach city centres at both ends of the route. This would reduce the journey time to 2 h 30 min from the current 3 h 45 min best. Ridership at launch is estimated at 7 million passenger-journeys annually, growing to 10·5 million by 2030.
The total cost of the project is put at 696·2bn roubles. A tender to select a private-sector Infrastructure Provider is expected to be issued in December, with signature in 2013. Consortia from China, South Korea, France and Germany have already registered their interest. Under the terms of the PPP, the government will provide around half of the capital cost during the 2015-18 construction phase (around 313bn roubles), and make availability payments worth 58bn roubles per annum to 2050, provided that contracted infrastructure performance criteria are met.
Whilst train operation and revenue risk will be the responsibility of RZD, the Infrastructure Partner will be responsible for maintenance of the line for 30 years. The concessionaire will also have the right to decide the number and location of any intermediate stations.
Muratov confirmed that the government expected to recoup much of the capital outlay through external economic benefits, which are estimated to be worth 2 240bn roubles over the 2018-50 period.
The November issue of Railway Gazette International will include a more detailed analysis of the proposed Moscow - St Petersburg high speed line.