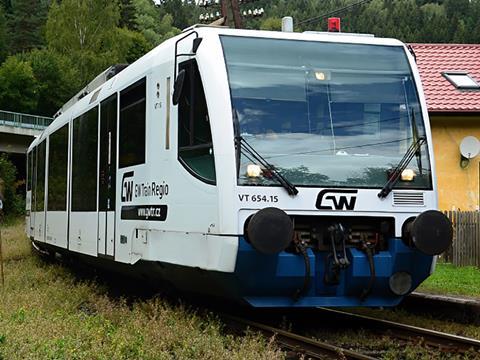 CZECH REPUBLIC: The Ministry of Transport announced on August 1 that it had directly-awarded private company GW Train Regio a 10-year contract to operate fast services on the 157 km Plzeň – Most route R16 from December 2016. Services are currently provided by national operator ČD.
GWTR would be the first private operator to run long-distance trains under a public service contract with the state. Subsidised inter-regional services on the Plzeň – Most and Pardubice – Liberec routes have been operated by ČD since December 2006 under two pilot contracts awarded through bidding.
The tender had been announced in February 2015 and the contract was to have run for 15 years, but competition authority ÚOHS repeatedly blocked the process. GWTR was announced as winner of the contract in February 2016, but the award was annulled by ÚOHS at the request of third-placed ČD which claimed that it was discriminatory to include a provision for the state operator to accept free employee travel without compensation.
Following this, the Ministry decided to award a KC700m contract directly to GWTR, which had offered the lowest bid at KC74·7 per train-km compared to ČD's KC103·4.
GW Train Regio is currently in talks with ČD and regional authorities regarding mutual acceptance of tickets and integration with other modes. It is to operate the services with a fleet of four Class 628 two-car DMUs acquired from Deutsche Bahn in May, which are being overhauled by CZ Loko as Class 845.
GWTR is a wholly-owned subsidiary of bus and road logistics operator ČSAD Jihotrans, and was known as Viamont Regio until December 2011. It operates regional passenger services on five lines in the Karlovy Vary, Hradec Králové and northern Moravia regions. Legal action by ČD is currently preventing the signing of a 15-year contract covering three regional lines in southern Bohemia, for which GWTR has been selected in spring 2015.