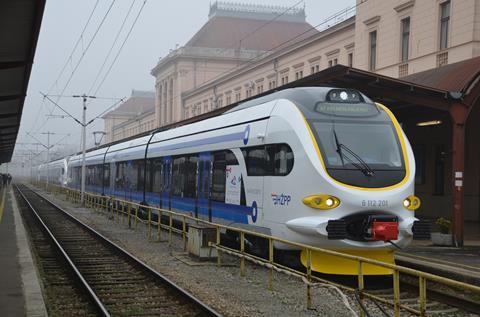 CROATIA: National passenger train operator HŽPP has awarded Končar KEV a contract to supply two prototype battery-only and battery-electric multiple-units and six charging points which will be installed at Split, Osijek, Varaždin, Bjelovar, Virovitica and Pula stations.
The prototype three-car battery-electric unit will be equipped to use the 25 kV 50 Hz overhead when running on electrified routes and to operate using battery power on non-electrified lines. They will be able to charge from both the fixed charging points and the overhead where available. The two-car battery-only unit will use the fixed charging points.
The low-floor multiple-units will be designed to cover an average of 480 km during 18 h of daily operation. They will feature wheelchair ramps, CCTV, wi-fi, cycle spaces and accessible toilets.
Of Croatia's four largest cities, only Zagreb and Rijeka are connected by an electrified line. The routes from Zagreb to Osijek and Split are only partially electrified and currently require diesel operation or a change of traction.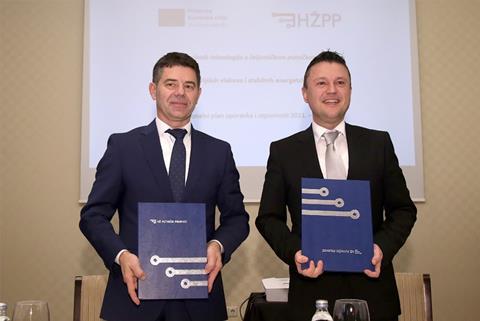 The contract for the prototypes was signed on December 21, with the two units scheduled to be unveiled in 20 months. The project is costed at 129m kuna, of which 100m kuna is being provided from the National Recovery & Resilience Plan for 2021-26.
'The hybrid and battery trainset project is a new challenge for Končar', President of Končar KEV Josip Ninić told Railway Gazette International at the signing ceremony. 'It is a development project that will engage our capacities and give us a new product with potential in the domestic and export markets.
'We won the contract through an open procurement procedure, and we are very grateful to the HŽPP and all stakeholders involved in this project. A huge job lies ahead of us, and the deadlines are short.'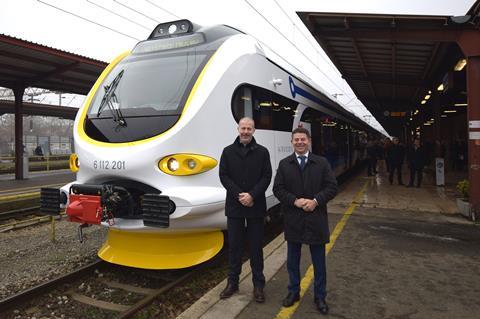 Suburban EMUs
On the same day, Končar KEV and HŽPP unveiled first three Class 6.112 suburban EMUs co-financed through the Operational Programme Competitiveness & Cohesion 2014-20. HŽPP has ordered 11 suburban and 10 regional EMUs for €171·7m, with €116·8m coming from EU sources.
The suburban units have 2+2 and 1+1 seating to increase standing space; they are expected to be deployed on services between Harmica, Savski Marof, Zagreb's main station and Dugo Selo.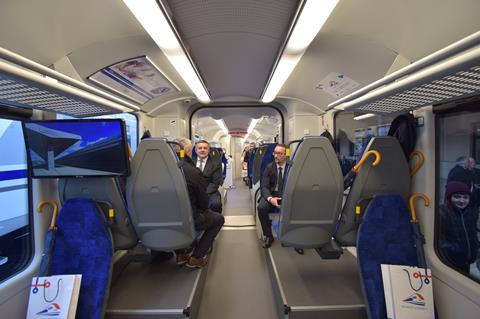 They are the first Končar KEV EMUs to meet TSI standards, although it has supplied TSI-compliant DMUs before. The main difference from the company's previous EMUs is a redesigned cab exterior.
'The key subsystems of these EMUs were developed and produced by companies of the Končar group', said Ninić. 'It is important to note that 75% of the selling price of this train remains in Croatia. The train is designed in accordance with the current standards applied in the production of passenger transport vehicles in the EU.'
Fleet renewal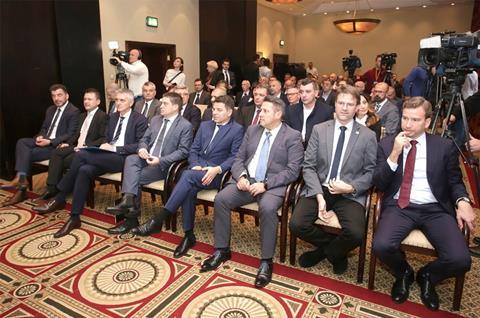 During a preview ride on one of the EMUs, Deputy Prime Minister and Minister of the Sea, Transport & Infrastructure Oleg Butković said the battery trains and the new EMUs were 'two very important projects' co-financed by the EU Cohesion Fund,
'We won't stop there', added the President of the HŽPP management board Željko Ukić. 'By 2032, the purchase of another 60 trains is planned, so we will renew all the rolling stock and raise the quality and comfort of passenger transport in Croatia to a higher level. The procurement of battery and hybrid trains will significantly improve local and regional connectivity and improve the quality of service. In traffic, it will be possible to operate battery trains in multiple with the new generation of low-floor trains, which will ensure greater capacity and lower operating costs.'