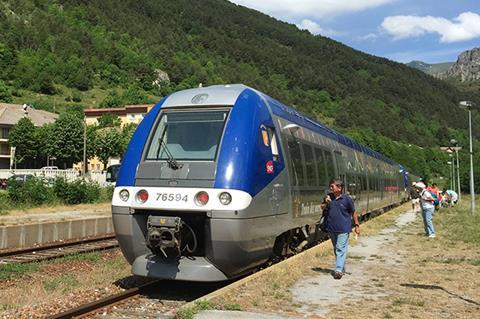 FRANCE: Bids for concessions to operate two groups of local services in the Provence-Alpes-Côte d'Azur region were invited on February 24, just over one year after the region announced its intention to open up TER services to competition from operators other than SNCF. Offers must be submitted by March 31.
A 10-year concession for the 'intermetropole' group of services covering trains between Marseille, Toulon and Nice will be awarded in summer 2021, with the concessionaire expected to take over in summer 2025.
Valued at around €870m, the concession requires bidders to supply new rolling stock. A site would be made available for a maintenance depot to be built at Nice-Ville, and trains will also be maintained at the depot at Marseille-Pautrier.
The operator will be expected to provide services totalling around 2∙45 million train-km a year at the start of the concession; for comparison, the contracting authority required operation of 1∙3 million train-km in 2019.
The award for a second group of services would also be for 10 years and covers trains from Nice to Les Arcs-Draguignan and Ventimiglia, the branch from Cannes to Grasse and the Nice – Breil-sur-Roya – Tende line. The award is to be made in summer 2021 with a view to the operator launching services in December 2024. This contract is expected to be worth €1·5bn.
Rolling stock will be made available to the operator, as will a site for a depot at Nice-Saint Roch; the contractor will also operate the Cannes-la Bocca maintenance depot. The contract covers provision of about 4∙3 million train-km a year, compared with 3∙1 million operated on the same routes in 2019.
In other areas, the Hauts-de-France region plans to tender for three groups of services covering about 20% of its TER operations. Grand Est also envisages putting three groups of services out to tender, including a number of routes into Germany such as Strasbourg – Karlsruhe and Strasbourg – Offenburg. Auvergne-Rhône-Alpes is contemplating tendering some TER routes, as are Nouvelle-Aquitaine and Pays de la Loire. It will become mandatory to put public transport services that require subsidy out to competitive tender from December 2023.