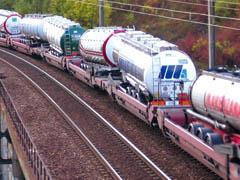 FRANCE: Visiting Boulogne-sur-Mer on November 12, Transport Minister Frédéric Cuvillier announced that a third piggyback service is to be launched to connect Bayonne near the Spanish border with Dourges south of Lille. Expected to start operations around 2015, the Autoroute Ferroviairie Atlantique would run via Bordeaux and Longueau.
Cuvillier also announced that the 80 km line between Amiens and Rang-du-Fliers would be electrified, enabling electric traction to be used throughout between Amiens and Boulogne. This is expected to be completed by 2018, eliminating the present locomotive change at Amiens and cutting up to 30 min off Amiens - Boulogne journey times.
According to Claude Gewerc, President of the regional council, Picardie is to be the pilot region for a new model for local passenger services, bringing together TER services financed by the region with longer-distance Corail services currently funded centrally. 'Passengers don't care if they are taking a Corail, TER or Intercité train', he said. 'What they want is a service that is up to the mark'.