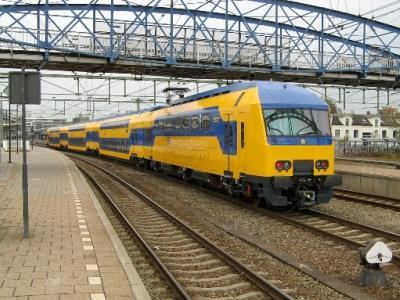 NETHERLANDS: The first of 50 refurbished double-deck electric multiple-units began operating inter-city services between Amsterdam and Den Haag via Schiphol Airport on March 12, following an official handover ceremony at NedTrain's Haarlem works on February 13.
Designated NID, the units are being converted from DD-AR suburban EMUs which had been created in the mid-1990s by merging older double-deck push-pull coaches with purpose-built Bo-Bo-Bo power cars.
The delivery of New Sprinter EMUs created a surplus of suburban rolling stock, whereas NS Reizigers was seeing a growing demand for inter-city travel. Under a €235m contract awarded in 2010, NedTrain is refurbishing 50 power cars and 190 trailer vehicles to form 30 four-car and 20-six car trains; the work is due to be completed by mid-2013.
Taking eight days per coach, the conversion includes a revised interior layout and new seating throughout, reducing the nominal capacity of a four-car set from 475 to 372. New toilets with bioreactors are also being installed, with at least one wheelchair-accessible toilet compartment per train. Wi-fi access is provided throughout, along with power sockets in first class. Full air-conditioning is also being installed in place of the former heating and ventilation system.
Read more about the NID conversion project in the April issue of Railway Gazette International.