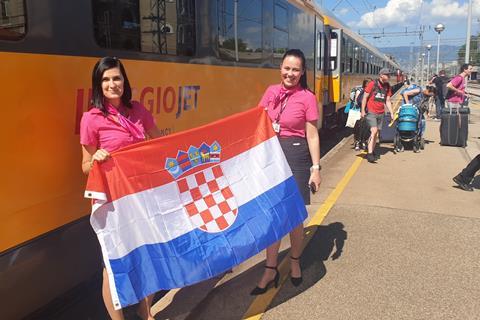 EUROPE: Czech open access operator RegioJet's first overnight train from Praha to Rijeka arrived in the Croatian port city on July 1.
The seasonal service is to run three times a week until July 11, daily until the end of August, and then thrice weekly until the final northbound departure on September 26.
It is aimed at Czech, Slovak and Hungarian holidaymakers, with RegioJet providing guaranteed bus transfers to 30 tourist destinations on the Croatian coast.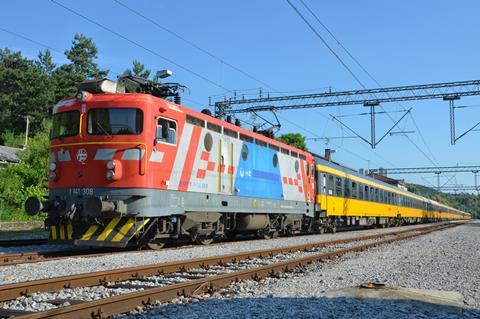 The 12-car train has a capacity of 560 passengers in open saloon, compartment and couchette coaches, with single fares from €22. Trains leave Praha at 17.20, taking a 1 040 km route via Pardubice, Brno and Břeclav, Bratislava, Csorna and Ljubljana to arrive in Rijeka at 08.56.
RegioJet announced the service on June 1, and reported that 30 000 tickets had been sold by time the first train departed.
'Never before have ticket prices to Croatia been so cheap and travel as convenient as this year. We want our prices to be set so that, after difficult times, everyone can afford a holiday', said RegioJet's Head of Operations Ivana Kašická.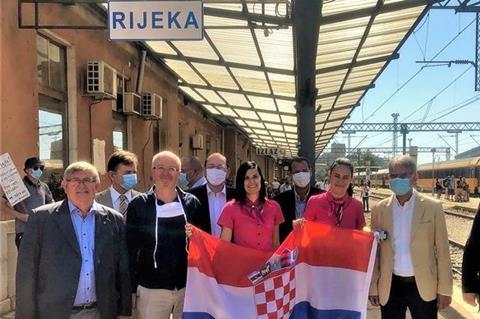 The price includes a seat reservation, coffee and breakfast, wi-fi and access to an entertainment portal.
Refreshments are ordered online in advance and prepared by staff before departure, with the purchase of drinks and snacks also possible onboard.
The train was hauled by a RegioJet Siemens Vectron loco as far as Hodoš on the border between Hungary and Slovenia, with Continental Railway Solution managing the service through Hungary. A Slovenia Railways electric loco than hauled the train to Šapjane on the Croatian border where a HŽPP 1141 loco took over.
The first service arrived in Rijeka more than 60 min late, as a result of tighter procedures at the Slovenia/Croatia border brought in under Covid-19 regulations.
RegioJet has notified Czech regulator ÚPDI of its plans to launch a daily Wien – Warszawa service from December 10, leaving Wien Hbf at 21.20 and arriving at in Warszawa Centralna at 07.00, calling at Bratislava, Staré Město u Uherského Hradiště, Přerov, Ostrava, Bohumín, Czechowice-Dziedzice, Katowice and Częstochowa. The return leg would leave Warszawa at 21.15 and arrive in Wien at 06.50.