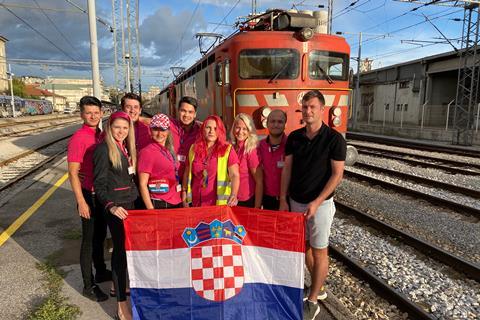 EUROPE: Open access operator RegioJet's summer service linking the Czech Republic and Slovakia with Croatia's Adriatic coast carried more than 60 000 passengers on 120 trains during its first season of operation.
RegioJet announced the summer-only overnight service on June 1, and 30 000 tickets had been sold by the time the first train departed on June 30.
The service was targeted at Czech, Slovak and Hungarian holidaymakers, running daily in July and August and then three times a week in September. The final train of the 2020 season departed northbound on September 26, carrying 350 passengers returning from their holidays.
RegioJet said the service was profitable, with average occupancy being more than 90% and the 'vast majority' of southbound trains leaving Praha completely sold out. About half of the passengers used connecting buses from Rijeka to 30 holiday destinations on the Adriatic coast.
Trains left Praha at 17.20, taking a 1 040 km route via Pardubice, Brno and Břeclav, Bratislava, Csorna and Ljubljana to arrive in Rijeka at 08.56. RegioJet said this was its first service to run through five countries, and also the first time it had worked closely with state-owned operators to run a service.
The launch took six weeks, working in co-operation with the national railways of Croatia and Slovenia and the Croatian embassy in Praha.
RegioJet is to run a similar service next summer, with the first train planned for May 2021.