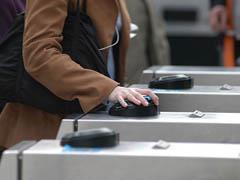 UK: Independent passenger watchdog London TravelWatch has published Passengers' Ticket Purchasing & Journey Experiences, a study of users' attitudes towards ticketing on rail, metro, light rail and bus services in London.
The research commissioned from Aecom found that while passengers are confident about purchasing tickets for journeys they make regularly, they often require help when making less familiar trips.
Passengers want stations to have staff who are able to answer queries, resolve problems and provide a feeling of security, and some users expressed concerned that research into ticket office usage may be part of a hidden agenda to reduce staffing levels.
However, the report finds that 'although many people are reluctant to compromise on the issue of staff availability, they are willing to consider the possibility that on some occasions, deploying staff outside the ticket office may meet passenger needs more flexibly'.
While the Oyster smart card system is widely used, the research found that there is a need for clearer information about fares charged, and that peak/off-peak distinctions and daily price capping is not well understood. There is a degree of distrust of the systems, and passengers lack confidence in their ability to identify the cheapest fares or obtain solutions to problems which arise.
Passengers are also unconvinced by the possibilities of contactless and mobile payment technology, which is regarded as too recent and untested.
The research also found that while passenger information has improved, passengers increasingly expect real-time joined-up information, with more use of apps and social media.