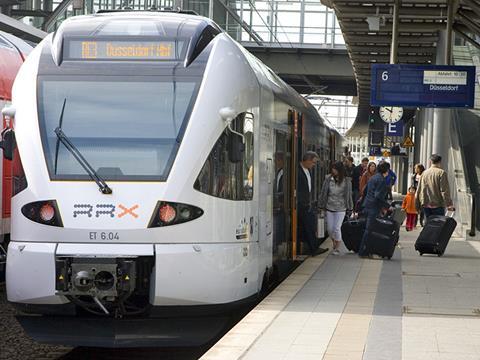 GERMANY: The Münster procurement tribunal has rejected DB Regio's objections to the decision to call separate passenger service operating and rolling stock provision contracts for the Rhine-Ruhr Express project.
A group of four transport authorities led by Rhein-Ruhr body VRR is seeking to award three contracts for the operation of RRX regional services from December 2018.
These would use a standardised fleet of at least 71 double-deck electric multiple-units which the authorities plan to procure and finance themselves under a stand-alone train provision contract. This is because VRR was concerned that smaller potential bidders for the operating contracts might find it difficult to finance such a large order worth up to €900m.
The rolling stock supplier would be awarded a 30-year maintenance contract which would provide an incentive for it to focus on life-cycle costs, rather than simply initial price.
DB Regio objected to this contracting model, arguing that the winners of the operating contracts would not be able to control train quality or availability, making it difficult to price their bids. However, the tribunal decided that the authorities were free to introduce the new tendering model, as long as the conditions were not unreasonable.
VRR said the decision to separate the contracts is proving successful, with the number of expressions of interest in the contracts being higher than the national average.