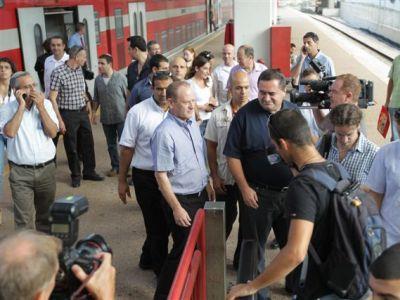 ISRAEL: Revenue services began running on the new suburban line between Tel Aviv Ha'agana and Rishon Le-Ziyyon Moshe Dayan on September 26, after industrial action over plans to outsource rolling stock maintenance disrupted the formal inauguration scheduled for the previous day. Transport Minister Yisrael Katz and ISR General Manager Boaz Zafrir marked the start of operations by riding the 09.30 train to Tel Aviv.
The 6 km line forms the first stage of a new route to Ashdod, paralleling the Mediterranean coast southwest of Tel Aviv. New stations have been built at Holon Junction, Holon-Wolfson, Bat Yam Yoseftal, Bat YamKomemiyyut, and Rishon Le-Ziyyon Moshe Dayan. The line is to be extended to Yavne Ma'arav during 2012, and will eventually join the Lod – Ashdod line at Pleshet Junction, cutting Tel Aviv – Ashdod journey times to 25 min.
An initial peak service of 3 trains/h is expected to be increased to 4 trains/h as demand grows. Because of the steep gradients, the journey time is 18 min from Rishon Le-Ziyyon to Tel Aviv and 20 min in the opposite direction. These journey times are expected to fall following electrification, which is envisaged as part of ISR's programme to electrify most routes radiating from Tel Aviv.