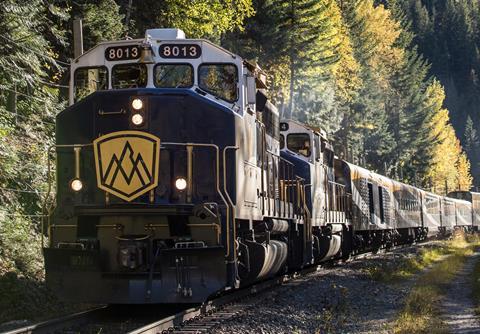 USA: Luxury train operator Rocky Mountaineer has announced plans to launch a two-day 'Rockies to the Red Rocks' rail journey between Denver in Colorado and Moab in Utah during 2021. Passengers would stay overnight at a hotel in Glenwood Springs, Colorado.
The new service will be in addition to Rocky Mountaineer's three routes from Vancouver to Banff, Lake Louise and Jasper in the Canadian Rockies.
'The work to find a new route has been underway for several years as we needed to find a special location with many of the same features we have in western Canada — incredible scenery, iconic destinations, and the option for an all daytime, multi-day journey that is best experienced by train', said President & CEO Steve Sammut. 'Rockies to the Red Rocks will have all of this and more.'
Company founder Peter Armstrong said Rocky Mountaineer 'has become renowned for our world-class train travel experiences', and the US route 'with its magnificent scenery, national parks, vast opportunities to explore, will delight millions'.
There will be 40 departures across 10 weeks from August 15 to October 23 2021, with Rocky Mountaineer working with local tourism organisations, hotels and tour operators to provide custom holiday packages with tours and other activities. The trains will run during the day time, with a dome car for panoramic views and 'premium' onboard catering.
Prices will start from $1 250 plus tax, and places can be reserved with a refundable deposit of $25.
'The coronavirus pandemic has had a devastating impact on the travel industry, and there is continued uncertainty of when tourism will recover', said Sammut. 'However, we believe American travellers, and those from around the world, will be eager to explore this region by rail with us and we look forward to welcoming them in 2021 and beyond.'