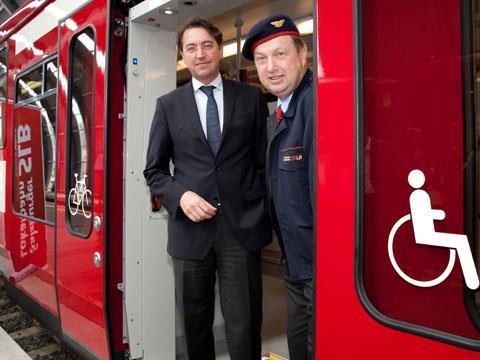 AUSTRIA: Salzburger Lokalbahn has unveiled the first of its ET40 two-car electric multiple-units to be rebuilt with the insertion of a low-floor centre car.
The low-floor section is 350 mm above rail level, making the articulated vehicles more accessible to passengers with reduce mobility. There will be two wheelchair spaces, and more convenient access for passengers with prams or bicycles. The additional car also increases the capacity of each articulated unit by 35%, to 112 seated and 160 standing passengers.
SLB awarded the contract for the project to Czech firm Inekon, and the rebuilding work is being undertaken by Ekova in Ostrava. IFE Automatic Door Systems is supplying doors, Cegelec static convertors, Knorr-Bremse brakes and Transtec the bogies.
Nine of SLB's 18 units are to be rebuilt by the end of 2013, with the €8m cost being supported by the Land of Oberösterreich.
Following the unveiling on July 20 the first rebuilt unit is undergoing trials ahead of entry into passenger service on SLB routes S1 and S11 from Salzburg to Lamprechtshausen and Trimmelkam.