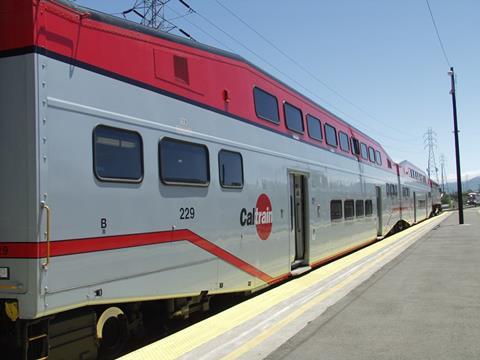 USA: Electrification and rolling stock contracts worth $1·25bn for the Peninsula Corridor Electrification Project were approved by the Caltrain board on July 7.
The $697m contract for design and construction of 25 kV 60 Hz AC electrification infrastructure on the 82 km route between San Francisco and San Jose was awarded to Balfour Beatty Infrastructure, while Stadler is to supply a fleet of 'high-performance electric trains' for around $551m.
The electrification project is costed at $1·9bn, including a 20% contingency. The two major contracts have been approved with a 'limited notice to proceed', with full notices to be issued following the completion of a funding agreement with the Federal Transit Administration later this year. Caltrain expects to launch electric passenger services in 'winter 2020'.
Electrification is intended to increase frequencies and train capacities to handle growing traffic on the route, which has seen six consecutive years of record ridership with a near-doubling of passengers since 2010. Average weekday ridership is 60 000, with some peak trains having 25% more passengers than seats. Electrification will also improve air quality and support the eventual operation of high speed trains over the route. 'Replacement of aging diesel engines will allow Caltrain to serve 110 000 daily riders, taking thousands of cars off our highways and reducing local air pollution by 97%', said US Representative Anna G Eshoo when the contracts were approved.
Funding is to come from a variety sources. Local ($202m), regional ($59m) and state ($751m) investment has been secured through agreements between Caltrain and the Metropolitan Transportation Commission, Caltrain's member agencies in San Francisco, Santa Clara and San Mateo counties and the California High Speed Rail Authority, which is providing $705m towards electrification and the installation of Positive Train Control. Federal funding of $978m is envisaged; last year Caltrain applied for $647m from the FTA Core Capacity Program and in February 2016 the Obama Administration allocated nearly $73m in prior year funding and requested that another $125m be included in the 2017 federal budget.
'The award of these contracts marks an important milestone in Caltrain's 150 year history,' said Caltrain Executive Director Jim Hartnett. 'The Caltrain modernisation programme is the most transformative project this corridor has ever undertaken. It offers unique economic, environmental and mobility benefits to the region and it is a key link in a High Speed Rail network that will transform the way we think about transportation in California.'