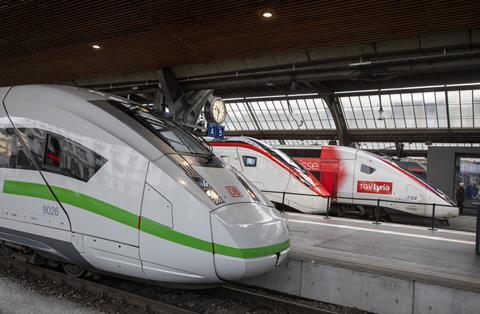 SWITZERLAND: Swiss Federal Railways will offer a major increase in capacity on international inter-city routes with effect from the timetable change on December 15.
Announcing details at an event held in Zürich Hauptbahnhof on November 23, SBB said that demand for travel on services originating or terminating in Switzerland during the first nine months of the year was up by 10%.
SBB took the opportunity to showcase some of the rolling stock that will be introduced on international services with the timetable change.
On display were one of DB's ICE4 trainsets, a double-deck TGV for TGV Lyria services, and a Giruno trainset destined for services from Zürich to Milano — although until 'spring 2020' Girunos will only operate between Zürich and Lugano or Chiasso. SBB says that, once the Ceneri base tunnel is open in 2021, it will offer trains to Venezia and 'other destinations in Italy'.
ICE4 trainsets, each with 830 seats, will operate seven services a day each way to and from Frankfurt and Hamburg. SBB says that this represents a 20% increase in capacity compared with the use of ICE1 trainsets.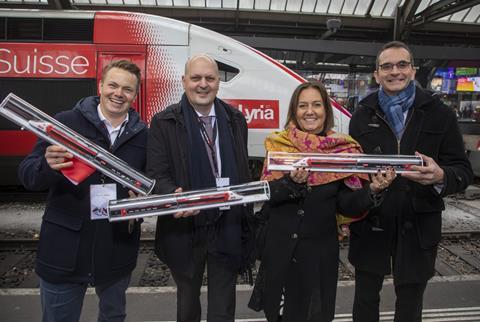 All TGV Lyria services will be operated by a fleet of 15 refurbished double-deck TGVs, with the number of seats available increased from 4 500 to 18 000 a day. There will be six return workings between Zürich and Paris, six between Lausanne and Paris, some of which will run via Genève, and eight a day between Genève and Paris.
Future plans for stepping up frequencies on international routes include six instead of three return trips from Zürich to München from 2021, with the journey time cut from about 4 h 45 min to 3 h 30 min.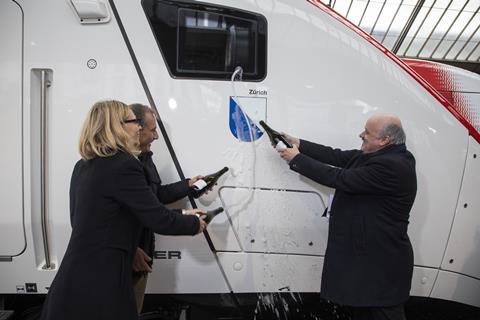 SBB also announced that it is updating its on-line ticketing for international journeys with a view to simplifying ticket purchase and providing more tickets at lower prices to compete more effectively with airlines and road transport.