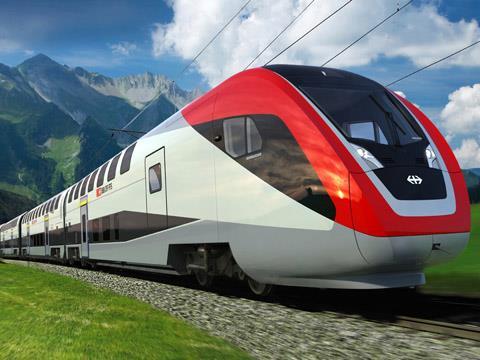 SWITZERLAND: A revised schedule for the delivery of Twindexx Express long distance double-deck electric multiple-units ordered in 2010 has been agreed with Bombardier Transportation, Swiss Federal Railways announced on November 19. In compensation for a further one-year delay to deliveries, Bombardier will supply SBB with three additional EMUs and spare parts free of charge, taking the total order to 62 units.
The SFr1·86bn contract for 436 vehicles awarded in June 2010 was the largest single rolling stock contract which SBB had placed. Deliveries were scheduled for 2012-19, but a two-year delay to the project was announced in April 2012, partly owing to problems with the body design. Under the latest agreement the trains are now expected to enter service from 2017, with all to be delivered by 2020.
The first trainset is now scheduled to be assembled at Hennigsdorf in Germany during December, with the second to be completed at Villeneuve in Switzerland during February. SBB will analyse the quality of these initial EMUs before approving series production, and said it would not risk putting unsuitable vehicles into service.