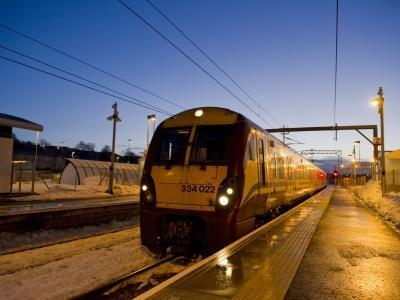 UK: A fourth direct route between Edinburgh and Glasgow came into operation on December 12, following the completion of a £300m project to reconnect the Glasgow – Airdrie and Edinburgh – Bathgate branch lines. The work re-establishes a through route which had been truncated for passengers in 1956 and closed to freight in 1982.
Studies for the reopening began in 2004, when the rail link was proposed as an alternative to widening the M8 motorway between the two cities; the project was granted legal powers in 2007. The work has been managed by Network Rail on behalf of Transport Scotland.
Balfour Beatty Rail Projects was awarded a £60m contract for the reinstatement of 24 km of double track, along with electrification at 25 kV 50 Hz between Airdrie and Haymarket. Carillion undertook civil engineering works including bridges and the construction of three new and two rebuilt stations, and Invensys Rail supplied the signalling.
ScotRail is initially operating an hourly service on the route. However, unusually severe weather during the first few days meant that not all stations could be served from the outset. In the longer term there will be four trains per hour each way, with two calling at all stations and two making limited stops. These will be introduced as and when sufficient Class 334 EMUs can be redeployed following the introduction of Siemens Class 380s on services between Glasgow and Ayr.