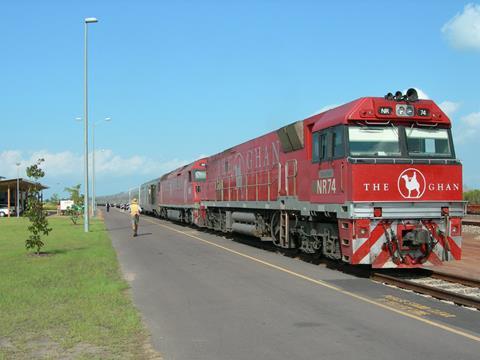 AUSTRALIA: Serco Group plc has agreed to sell its Great Southern Rail business to Sydney-based private equity firm Allegro Funds for an enterprise value and cash consideration of £2·5m.
GSR operates tourist-focused passenger services including The Ghan, Indian Pacific and Overland, and Serco said a review undertaken last year had identified that it 'was not aligned with Serco's future strategy given GSR's historical lack of profitability, as well as limited synergies with the rest of Serco's transport portfolio.'
The transaction announced on March 30 is expected to close 'in the coming months', subject to customary closing conditions and approvals.
'Great Southern Rail is an iconic and award-winning Australian tourism business operated by some great people', said Serco Group CEO Rupert Soames. 'However, Serco needs to concentrate on its core as a leading supplier of public services and we cannot provide the focus and investment GSR needs to thrive. We will continue to build a strong transport business where Serco's capabilities can be deployed and transferred internationally, and our recent contract award to support the new North–South Railway in Saudi Arabia is testament to the progress we are making.'
In the year to December 31 2014 GSR recorded revenue of £58m and an operating loss of £3m. This excluded an exceptional charge of £37m, comprising a £23m non-cash impairment to reduce the carrying value of net assets to the estimated recoverable amount, and £14m in relation to the break costs of leases to be settled in cash by Serco in 2015. Serco expects a net exceptional loss on disposal of £6m in the 2015 financial year, driven by additional cash costs of breaking leases.
The disposal is not expected have a material impact on Serco's forecast £90m group trading profit for 2015.