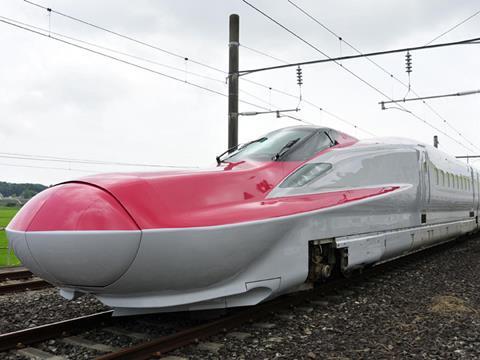 JAPAN: The: prototype Series E6 mini-Shinkansen trainset for East Japan Railway's Akita route was unveiled to the public at Sendai depot on July 9. Once trials are completed the train is expected to enter commercial service from 2013.
The Series E6 has five motor and two trailer cars, providing 315 standard seats and 23 in the Green Car. The maximum speed in commercial service will be 320 km/h between Tokyo and Morioka on the Tohoku Shinkansen, and 130 km/h between Morioka and Akita on the mini-Shinkansen section of upgraded conventional line.
The Series E6 features a nose around 13 m long to reduce noise and pressure pulses at tunnels. It has an active suspension system and 1·5° of tilt for passenger comfort, as well as wheelchair-accessible toilets and CCTV.
Series E6 will work in multiple with Series E5 trains from Tokyo to Morioka.