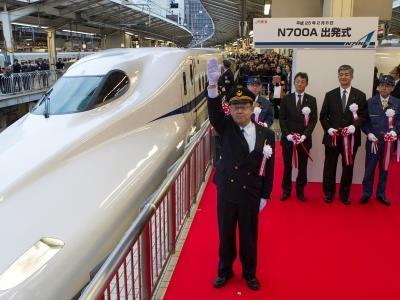 JAPAN: JR Central has put its first Series N700A trainsets into revenue service on the Tokaido Shinkansen, with a ceremony to mark the departure of Nozomi 203 from Tokyo station at 07.00 on February 8. A second train operating as Nozomi 208 was ceremonially dispatched from Shin-Osaka at the same time.
Having unveiled the first Series N700-1000 trainset at its Hammamatsu depot on September 18, JR Central has now taken delivery of six 16-car trainsets, with a further seven to be delivered during the current financial year. JR West expects to receive its first N700A in December. Augmenting the two operators' combined fleet of 96 Series N700 sets, the new units are currently operating six or seven trips each way per day between Tokyo, Nagoya and Shin-Osaka. The N700As are expected to start running on the Sanyo Shinkansen west of Osaka from March 16.
Although based on the Series N700 sets introduced in 2007, with a similar bodyshell and exterior design, the 'Advanced' version incorporates improvements in terms of safety and comfort, according to JR Central President Yoshiomi Yamada. The company sees improved comfort as an important factor for tackling growing airline competition in its core market.
The 270 km/h Series N700A has a braking performance 10% better than the earlier trainsets, offering a shorter braking curve. JR Central has been undertaking signalling and infrastructure works to optimise performance on the Tokaido Shinkansen, with a view to adding an extra train per hour on the heavily-used route.
Project Director Kei Sakanoue said the N700A could 'operate on its own', as it was 'the first Japanese high speed train equipped with a device to automatically ensure that the trains run on time'. The onboard unit analyses information about the track profile, including gradients, curves and tunnels, and combines this with the ATC cab signal indications and timetable data to optimise speed and energy consumption. Any trains running late will automatically attempt to make up time, whilst in normal operation the system will ensure that the trains do not run ahead of schedule.