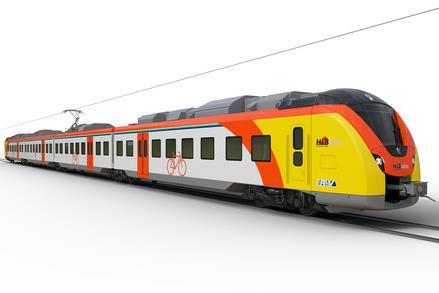 GERMANY: Rhein-Main and Nordhessen transport authorities RMV and NVV have awarded Hessische Landesbahn the next Mittelhessen-Netz contract to operate Mittelhessen-Express services, and the incoming operator has placed an order for 32 Alstom Coradia Continental electric multiple-units.
Running for 15 years from December 2023, the operating contract covers services RB40 Frankfurt Hbf – Gießen – Dillenburg, RB41 Frankfurt Hbf – Gießen – Marburg – Schwalmstadt-Treysa, RB49 Hanau – Friedberg and a new Frankfurt Hbf – Gießen route designated RB37.
The three existing services are currently operated by DB Regio, and employees will be able to transfer to the new operator on their current terms.
The total service provision is to be increased from 3·5 million train-km/year at present to 3·9 million in December 2023 and then to 4·3 million in December 2026. This will be facilitated by planned changes to the scheduling of long-distance trains which use the same tracks.
'Our goal is to build on our passenger successes and to continue to grow after the coronavirus', said RMV Managing Director Knut Ringat. 'With the new operating contract we are making the right offer with new trains, more journeys and more space.'
New EMUs
HLB has awarded Alstom a €200m contact to supply 12 four-car and 20 five-car 160 km/h Coradia Continental EMUs.
These will have 200 or 280 seats, with multi-purpose areas for wheelchairs, bicycles and pushchairs. The use of roof-mounted equipment will enable the interiors to have wide and step-free aisles, with an entrance height of 600 mm and sliding steps to provide easy access.
The units will be fitted with wi-fi, power sockets CCTV and a real-time passenger information system.
They will be similar to 13 three-car and 17 four-car Coradia Continental EMUs which HLB ordered for €160m in December 2015, and which have been operating since 2018 on Netz Südhessen-Untermain services. 'We have had a great experience in terms of maintenance, reliability and passenger comfort', said HLB Managing Director Veit Salzmann when the latest order was announced on May 27.
More than 3 300 Coradia multiple-units have now been sold, with around 2 900 in service in Denmark, France, Germany, Italy, Luxembourg, the Netherlands, Sweden and Canada.
'The Coradia Continental is the perfect solution for regional transport in central Hessen', said Müslüm Yakisan, President of Alstom in Germany, Austria & Switzerland. 'Reliable, fast and quiet, it offers maximum passenger comfort and generous space for bicycles and luggage.'