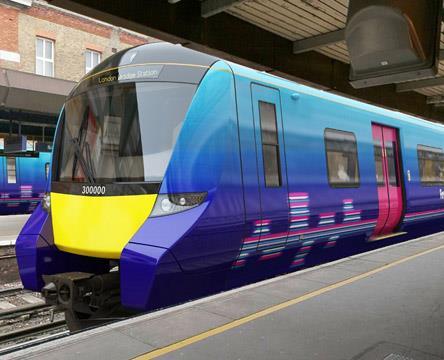 UK: Rail Minister Theresa Villiers named Siemens plc and the Cross London Trains (XLT) consortium of Siemens Project Ventures GmbH, PPP fund Innisfree Ltd and investment company 3i Infrastructure plc as preferred bidder to build, own, finance and maintain new trains and depots for the Thameslink Programme on June 16.
The order will cover 'around 1 200' dual-system 750 V DC third rail/25 kV 50 Hz EMU vehicles for use on the Thameslink north-south commuter route between Bedford, central London and Brighton. Entering service from early 2015 to the end of 2018, they will replace Class 319 units which are to be redeployed 'to the North West of England, the Thames Valley and other areas yet to be confirmed'.
Siemens has invested more than £45m in developing the Desiro City EMU platform as the basis for its Thameslink bid. The new trains will carry up to 1 750 passengers, offering improved passenger communication and easier access for passengers with reduced mobility than the existing fleet. They will be more energy efficient and also lighter, reducing track wear.
The trains are to be built at Siemens' Krefeld plant in Germany, with some components supplied from the Siemens Transmission & Distribution Ltd plant at Hebburn in Tyne & Wear. DfT says that 'up to 2 000' new jobs will be created in the UK: 600 associated with component manufacturing, 650 with the building of depots at Hornsey in London and Three Bridges in West Sussex, and up to 750 maintaining the trains and operating the depots, including the wider supply chain.
'We are delighted to have been selected as preferred bidder for the Thameslink rolling stock procurement programme and we look forward to working with the Department for Transport to bring the programme to successful fruition', said Steve Scrimshaw, Managing Director of Siemens' UK rolling stock business. 'Siemens has participated in a rigorous tender process for over two years. Our selection as preferred bidder is a significant achievement not only for the rolling stock teams both in the UK and Germany but for Siemens overall.'
The VeloCity consortium of Bombardier Transportation (Holdings) UK Ltd, RREEF Ltd, Serco Holdings Ltd, Amber Infrastructure Group Ltd and SMBC Leasing (UK) Ltd is being retained as reserve bidder 'in the event that contracts cannot be successfully finalised'.