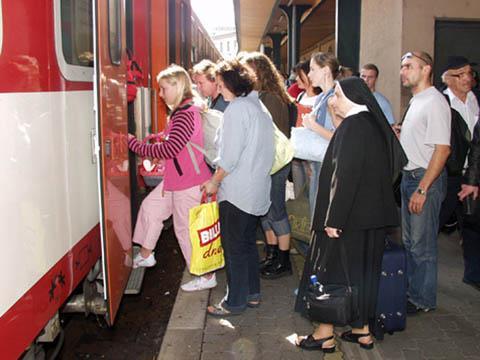 SLOVAKIA: With effect from November 17, around 46% of the population will be eligible for free travel on subsidised train services, under a proposal endorsed by the government of Prime Minister Robert Fico on October 22.
The provision is part of a €250m national economic stimulus package approved by the cabinet in June, which includes a series of measures to support rail-based public transport. Free second class travel will be provided on all subsidised services run by the state-owned passenger operator ZSSK, and on the Bratislava – Dunajská Streda – Komárno regional services which have been run by Czech private operator RegioJet since March 2012.
The concession is available to children below 15 years of age, full-time students between 16 and 26 and retired, widowed or disabled pensioners over 62, totalling around 2· million people. The government has also ruled that free travel should be made available to retired people over 62 and students under 26 from any of the 28 EU member states.
The Ministry of Transport says the move 'will above all improve the situation of socially-disadvantaged groups of citizens, and positively affect their living standards'. The concession is expected to cost around €13m a year, which will be met from the state budget, along with increased discounts for regular commuters which are being introduced from January 1 2015. The government had earmarked €205m to fund PSO rail services in 2014, and the total will increase to €218m in 2015.
Free travel will not be provided on InterCity trains on the Bratislava – Žilina – Košice route, which have operated without state subsidy since 2011. However, some fares are expected to be adjusted following the start of competition from open-access operators RegioJet and Leo Express with the December timetable change.
To avoid overcrowding as the concession attracts more passengers, ZSSK will introduce 103 services from December 14, totalling 1·5 million train-km. More long-distance non-IC trains will run from Bratislava to Košice and Zvolen and between regional centres, while suburban services around large cities will also be boosted. This is the largest increase in train services for a decade, and follows a series of service cuts in recent years.
The proposal has been strongly condemned by the opposition parties as a populist move, while bus operators' association ZAD, which represents 15 large companies across Slovakia, is calling for a review by the European Commission. ZAD says its members could lose up to 5% of their passengers, adding that the policy does not benefit people in the 'weaker' social groups who do not have convenient access to rail services.