The political and environmental climate is right for further expansion of high speed rail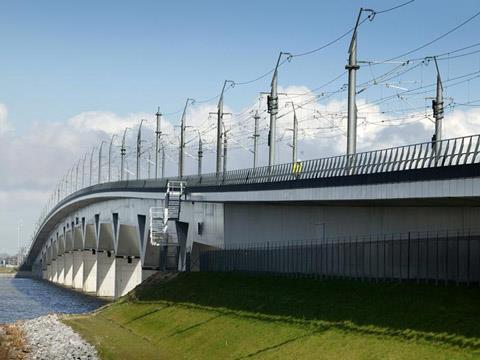 More than 1 300 delegates from 44 countries gathered in Amsterdam on March 16-19 for UIC's sixth international congress on high speed railways. Amongst the 220 papers and presentations were many success stories, ambitious plans for new projects, and sometimes heated debates about the technical and commercial challenges that lie ahead. But the overall feeling seemed to be that the political and environmental climate is right for further expansion of high speed rail, despite the prospects of a global economic slowdown.
It was somewhat ironic, however, that the host nation was still not able to reveal when revenue services would start using HSL-Zuid linking Amsterdam, Rotterdam and the Belgian border. Dutch Transport Minister Camiel Eurlings told the opening session of the congress that he hoped to begin an experimental service soon, subject to progress with final testing and commissioning which was 'underway as I speak'. He expected to announce a formal start date in Parliament 'shortly'.
Eurlings had confirmed on January 18 that although testing of the upgraded ETCS Level 2 train control system had 'generally passed without incident, a few problems remain - notably the crossing of the border with Belgium.' Although he referred to SRS 2.3.0 minus, ProRail confirmed that this is not the same as the Version 2.3.0 specification that was finally signed off by the European Railway Agency in February. HSL-Zuid is essentially equipped with Version 2.2.2, but with 'a package of additional functionality', which is 'slightly more' than the changes incorporated in the ETCS Level 2 system that is now handling around 100 trains a week on the Betuwe Route.
Although no-one will publicly commit to a date, and operator NS Hispeed cannot start its marketing campaign, the latest target is to start with an hourly service between Amsterdam and Rotterdam around the beginning of August. Using 160 km/h Traxx locos, NS Hispeed plans to run 16 trains/day each way. Ironically, a substantial proportion of the journey time saving will come from terminating at Amsterdam Zuid, rather than running around the ring line to interchange with other services at Centraal Station. Benelux trains to Brussels and Thalys services to Paris will continue to run via Leiden and Den Haag.
Some time in the autumn, NS Hispeed hopes to extend the shuttle services over the southern section from Rotterdam to Breda, although cross-border operation must await the final commissioning of the newly-developed 'Gateway' interface which enables the Dutch and Belgian RBCs to talk to each other. Once this is ready, the Benelux trains can be routed over the new line using more Traxx locos. NS Chairman Aad Veenman said on March 17 that he hoped to start cross-border working 'by the early part of 2009', paving the way for gradual 'timetable development' over the following months.
The first Albatross V250 trainset is now expected to arrive from AnsaldoBreda at the end of this year, and NS Hispeed hopes to put some units into service on the Benelux trains by mid-2009. This would release Traxx loco-hauled sets to double the Amsterdam - Breda service to 32 trains each way.
Thalys services will start to use the new line during 2009, once the trainsets have been fitted with ETCS. The service will be stepped up from six to seven trains each way, running at 300 km/h south of Rotterdam and 250 km/h on the northern section. Den Haag will be served by an 'HST Connect' shuttle from Rotterdam.
As the rest of the 19 V250s come into service, they will also take over the Breda service, allowing NS Hispeed to use the Traxx fleet on an intensive Amsterdam - Rotterdam shuttle. This will lift the number of services on the northern section to 88 each way - eight Thalys, 16 Benelux and 32 Breda trains running at 250 km/h, plus 32 loco-hauled shuttles.
Challenged to explain the problems besetting HSL-Zuid, Jeroen van Eijk from the ministry's project office admitted that the fundamental problem was that ETCS Level 2 had not been developed as far as the government had believed when the decision was taken in 1999 not to install back-up signalling. However, he felt that this had forced all parties to focus on development in order to make progress, rather than simply resorting to the back-up.
Another issue has been the sheer number of parties involved, as ProRail project director Gerrit Ten Klooster admitted when discussing the importance of systems integration. As well as the ministry, the infrastructure manager and the operator, there is the Infraspeed consortium with its concession to install and maintain the Dutch E&M systems, plus its various suppliers. And in addition there are the interfaces with the neighbouring Belgian operator, infrastructure manager and their own suppliers responsible for fitting out LGV 4.
It is interesting to contrast this complexity with the experience of introducing ETCS Level 2 in Switzerland. At UIC's ERTMS conference in Bern last year, SBB speakers repeatedly emphasised the importance of having a single point of responsibility, with someone to act as a project champion.