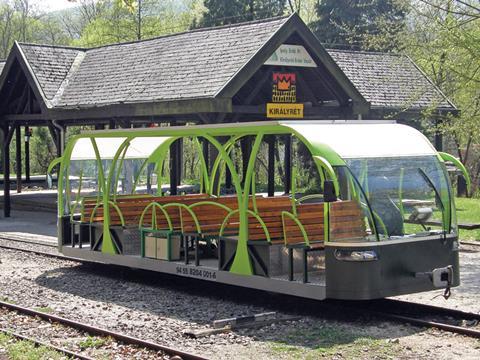 HUNGARY: A solar-powered railcar with a top speed of 25 km/h was unveiled at Hungary's Forest Railway Festival in Krályrét on May 4.
The 760 mm gauge railcar is intended for use on summer tourist services, and has 9·9 m2 of solar cells which are used to charge an onboard battery. The battery can also be charged from a mains supply, and is able to store enough energy for four or five uphill trips on the 12 km line between Kismaros to Királyrét; the return trip is downhill and requires little power.
The railcar is 8275 mm long and 2000 mm wide, with an entry height of 360 mm and 32 seats.
The frames and mechanical parts were supplied by Börzsöny 2020, with Hungarotrain responsible for electrical systems and GanzPlan providing documentation.