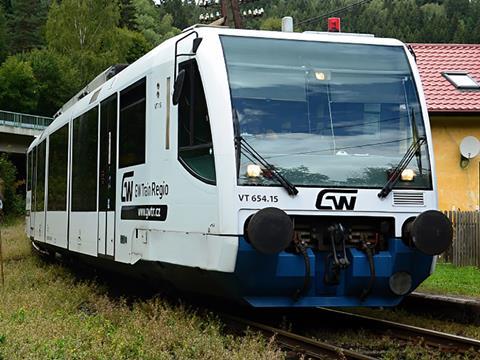 CZECH REPUBLIC: GW Train Regio subsidiary GW Jihotrans expects to take over the operation of subsidised regional passenger services on three lines in the Šumava mountains in December 2017, after the Brno supreme court ruled on November 4 that the regional authority can proceed with signing the contract.
The Jihočeský region had selected private company GWTR for the 15-year contract in April 2015. GWTR was expecting to take over from incumbent state operator ČD in December 2016, but formal award of the contract was prevented when ČD appealed, claiming there had been procedural deficiencies and insufficient transparency. ČD's bid had been ranked third, behind Arriva.
The dismissal of ČD's appeal by the court in Brno follows a similar verdict from competion authority ÚOHS.
The KC2·25bn contract covers the operation of 1·3 million train-km/year on the České Budějovice – Černý Kříž, Číčenice – Volary – Nové Údolí and Strakonice – Volary routes which total 229 km.
The contract is the second major win for GWTR this year, following award of a 10-year contract to replace ČD as operator of subsidised express services on the Plzeň – Most route from December 2016.