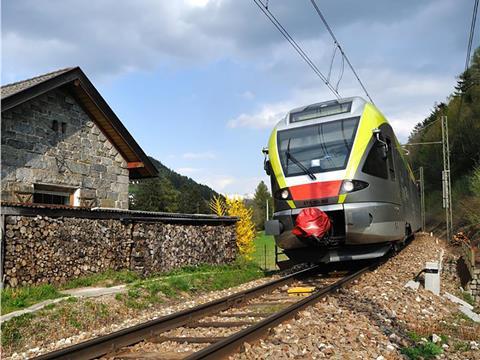 ITALY: The direct award of a contract for SAD Nahverkehr to continue to operate local passenger rail services was approved by the South Tirol regional government on August 8.
The contract with the rail, bus, funicular and cable car operator covers 2·52 million train-km/year. It runs from September 1 until December 2024, aligning with the end date of a separate contract covering four routes totalling 3·36 million train-km/year which the region awarded to Trenitalia in December 2015.
Head of the regional government Arno Kompatscher said having contracts with two competing operators had contributed to an increase in the quality of local rail services, and further efforts would now be made to ensure rail offered a real alternative to private cars.
The performance-based contract with SAD includes payment for train-km operated plus a system of rewards and penalties based on quality standards including punctuality, reliability, cleanliness and accessibility.
The regional also plans to acquire seven additional multiple-units.