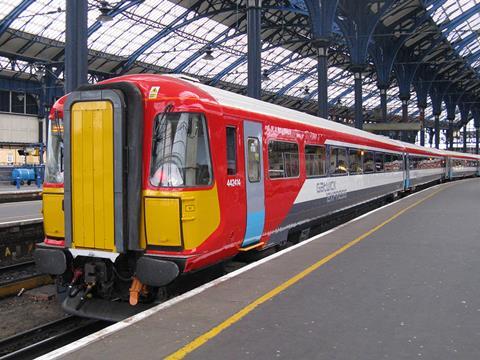 UK: Alliance Rail Holdings has started industry consultation on proposals to launch an open access passenger service on the Southampton - London Waterloo route in December 2017.
Managing Director Ian Yeowart told Railway Gazette on November 8 that Alliance aims is to increase capacity on the intensively-used route and make passengers' journeys 'less fraught', by offering a higher standard of comfort than on the current franchised services and helping to enhance rail's overall attractiveness.
Alliance envisages that there would be seven off-peak services a day, calling at Eastleigh, Winchester, Basingstoke and Hook. Two peak services would be added from December 2018, once a major upgrading project has created extra capacity at London Waterloo station. The peak service might not call at Basingstoke, as Alliance believes there is strong demand for travel into London from stations further out.
Alliance has submitted an offer to lease Class 442 third-rail electric multiple-units, which were built for the route in the 1980s but subsequently transferred to Gatwick Express services and are now in storage. An initial seven-year lease is planned to align with the competing South Western franchise.
Yeowart said Alliance was planning to launch with a 'traditional' open access model, using existing rolling stock to build a market before new trains were acquired. In the longer term, there are 'plenty of options' for 750 V DC rolling stock.
Track capacity has been identified for the off-peak services, said Yeowart, and Alliance intends to run long trains because 'we would not expect to use short trains on peak paths'.
The peak service would offer 600 seats per train, with 2+2 seating in standard class and 2+1 in first. Alliance is aiming for a 'traditional' level of comfort, in contrast to the capacity-focused designs of some more recent rolling stock. Both operator-specific and interavailable ticketing is planned, and Alliance is to meet with consumer groups to discuss proposals such as enabling season ticket holders to reserve seats.