UK: The Department for Transport named Abellio as preferred bidder for the new East Anglia franchise on August 10. The franchise is due to start on October 16 2016 and run until October 2025, replacing the current Greater Anglia franchise which is also held by Abellio.
A £1·4bn investment programme under the new franchise is to include:
Complete replacement of the current fleet, with the delivery of 1 043 new vehicles between January 2019 and September 2020. Bombardier is to be awarded a £900m contract financed by leasing company Angel Trains for the supply of 665 Aventra electric multiple-unit cars from its Derby plant. Stadler is to enter the UK mainline passenger rolling stock market for the first time with an planned order for 383 Flirt electro-diesel and electric multiple-unit cars.
Refurbishment of 'many' existing vehicles ahead of the arrival of the new fleet.
'Tough new performance targets', with Public Performance Measure scores to be increased from 89·7% to 92·9% 'through a more robust timetable, investment in infrastructure, people and process and through an alliance with Network Rail'.
At least two trains per weekday each way between London and Norwich with a journey time of 90 min, and two between London and Ipswich in 60 min.
Free wi-fi on trains and at stations.
Investment to improve the journey experience, including nearly £60m for stations, with major schemes at Broxbourne, Cambridge, Cheshunt, Harlow and Southend Victoria, digital information screens at all 131 stations, improved ticket offices and more ticket vending machines, nearly 1 800 additional car parking spaces and 4 000 additional cycle parking spaces.
New ticketing initiatives from October 2017, including offers for part-time workers and those who do not travel every day.
Automatic 'delay repay' for season and advance purchase tickets.
£120m of investment in depots, including a new maintenance facility at Manningtree.
Taking on 20 trainees per year, with a minimum of 30 apprenticeships by 2019.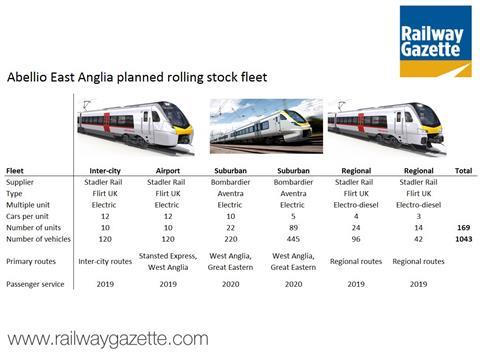 DfT said the franchisee would make premium payments worth around £3·7bn over the nine-year period.
The franchise is expected to carry more than 97 million passenger-journeys/year. The number of seats on services arriving at London Liverpool Street station in the morning peak is to be increased by 55% to 91 000, and across the franchise there will be 1 144 additional weekday services, an increase of 13%.
Dominic Booth, Managing Director of the Abellio UK subsidiary of the Dutch national passenger operator NS, said the company was 'pleased to become preferred bidder to deliver a transformation in rail services across the region'. This would 'enable us to build on the successes of the two short East Anglian franchises we have run since 2012, and we commend the DfT in running a transparent and rigorous procurement process.'
He said the new franchise would 'greatly improve our customers' experience with faster and more reliable journeys on new trains with higher frequencies and reduced journey times, to support the socio-economic well-being of East Anglia, one of the country's most successful and fastest growing areas.'
Bombardier Transportation's UK Commercial Director, Des McKeon, said the rolling stock order was 'a great endorsement of Bombardier's next-generation Aventra train family, which offers maximum flexibility, to serve many different market requirements from metro to inter-city.' Secretary of State for Transport Chris Grayling said Abellio's decision to order rolling stock from Bombardier would 'ensure our train building industry in Derby remains strong'.