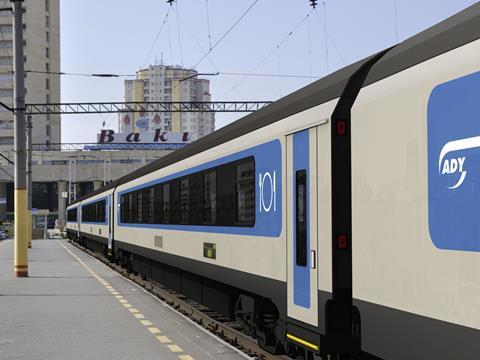 AZERBAIJAN: Stadler Rail has signed a contract to supply Azerbaijan Railways with 30 gauge-changing sleeping and dining cars for use on future Baku – Tbilisi – Kars – Istanbul services.
The SFr120m contract announced on June 12 is Stadler's first in Azerbaijan. It covers the supply of five types of coach to be delivered from the Altenrhein plant in Switzerland between mid-2016 and mid-2017, as well as spare parts and staff training. There is an option for an additional 70 sleeping cars.
'The development of new products and tapping into new markets is very important to us', said Stadler Rail CEO and owner Peter Spuhler. 'This is the only way to ensure our Swiss plants will be working to capacity in the medium term.' Growth in CIS markets is a strategic objective for Stadler, as the financial situation in western Europe has reduced orders from its traditional markets.
The coaches are to be operated as 10-car rakes each offering with a total of 257 beds. The air-conditioned vehicles will have controlled emission toilets and emergency generators able to provide power for 24 h.
The coaches are to equipped with the DB AG/RAFIL Type V system of adjustable wheelsets to accommodate the change of gauge from 1 520 mm to 1 435 mm standard gauge which will be located at Akhalkalaki in Georgia when the Kars – Tbilisi line opens.
Azerbaijan Railways sleeping car order

No of vehicles
Class
No of beds
Notes
3
First
16
All compartments with en suite toilet and shower.
18
Second
34
One toilet and one shower.
3
First/second
20
Includes family compartments.
3
Second
Compartment for persons of reduced mobility, four second class compartments with 16 beds, crew compartment.
3
Dining car
-
28 seats
There are options for a further 70 sleeping cars.