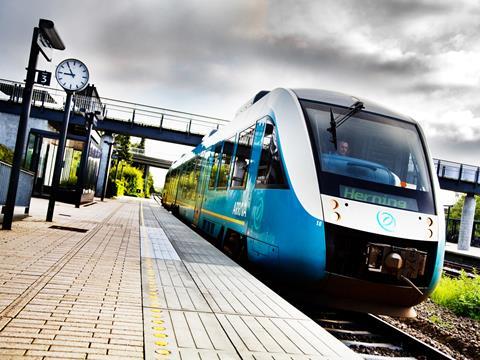 ARRIVA: Deutsche Bahn's non-German regional passenger transport business Arriva has reported a 7·8% increase in revenue to €4 843m for the year to December 31 2015, with EBITDA up 5·4% to €525m. More than 2·2 billion passenger-journeys were carried by the company.
'Arriva's proven strategy continues to be successful, as highlighted by another positive year of EBITDA and revenue growth', said Chief Executive Manfred Rudhart when presenting an annual review on March 24. 'We delivered growth throughout 2015 and continued to invest back into the business.'
Acquisitions and contract wins provided a platform for further growth. 'In our UK Trains business we were delighted to be awarded the Northern rail franchise', said Rudhart, while winning the next London Overground concession 'has capped an exciting period for us.'
'Across mainland Europe our significant growth has continued and our position in bus and rail markets remains strong', he added. 'We have made acquisitions in Eastern Europe and Italy, while contract wins and successful retenders have bolstered our position in countries such as the Netherlands and Denmark.
'Overall we can look back on a positive 2015 which provided further foundations for us to become a bigger, better Arriva in the future. We are well positioned as a respected mobility partner that is prepared to innovate, enter new and liberalising markets, and invest for its people, its partners, and its customers.'
Arriva employs around 55 000 people, with a further 5 000 due to transfer to the company when the new Northern franchise begins on April 1. Ongoing initiatives include 'Destination Green' which commits the company to a 30% reduction in annual direct carbon emissions by 2020.