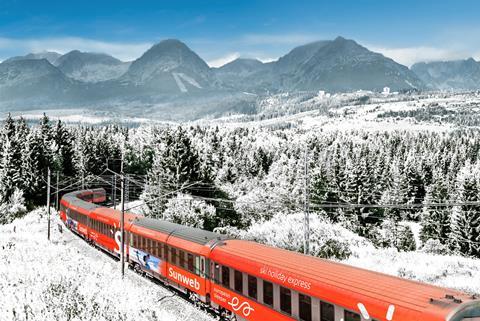 EUROPE: Dutch package holiday company Sunweb Group and night train start-up European Sleeper have announced a partnership to offer overnight trains from the Netherlands and Belgium to tourist destinations in France.
The companies said their aim is to make 'sustainable and relaxed' rail travel more attractive to a wider audience.
Services to winter sports destinations in the French Alps are planned for this winter, with trains to the beaches of southern France the following summer.
Sunweb Group says it is aiming to offer alternatives to car and air travel and make holidays by rail accessible to a much larger audience. Its Eliza Was Here brand recently began offering rail holidays from Amsterdam, Utrecht and Arnhem to Bari in Puglia in southern Italy. The next step will be to offer entire trains to France and Italy.
The company said night train travel was more sustainable and 'an experience in itself', with many boarding points to be offered and passengers arriving well-rested and having almost eight full days of skiing during a one-week holiday.
Shortage of sleeping cars
European Sleeper said Sunweb Group's plans were a perfect fit with its own ambitions to build a network of night trains from the Netherlands and Belgium, in addition to its previously-announced project to launch a night train from Brussels and Amsterdam to Berlin and Praha. Its aim is to introduce a new train connection every year.
European Sleeper said a lack of investment in night train coaches in recent decades means there is a shortage of available vehicles, which poses a serious constraint for most would-be European operators. It is currently preparing a 'sizeable' investment in 'renovated or even new' sleeping cars, and hopes to raise €2m in working capital to prepare for this complex investment.
It plans to start with existing rolling stock, but in the longer term would invest in refurbished and/or new vehicles offering different comfort levels, including couchettes and more luxurious sleeping cars.
In May 2021 European Sleeper raised €500 000 in seed capital by selling shares to more than 350 small investors in various countries. Further shares are to be sold on the Eyevestor platform from June 28, with a minimum investment of €300.