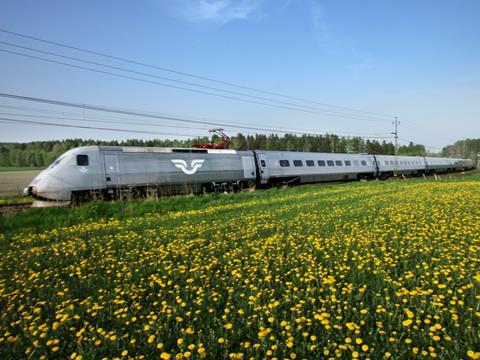 NORWAY: Swedish national passenger operator SJ has established local subsidiary SJ Norge to bid for the operating contracts which are being tendered under Norway's railway reform programme.
The Ministry of Transport & Communications expects to award two contracts this year covering the operation from December 2018 of the Sørlandet, Jær and Arendal lines and the Trondheim – Bodø, Bodø – Rognan, Lundamo/Melhus – Stjørdal/Steinkjer, Dombås – Åndalsnes, Hamar – Røros, Røros – Trondheim, Trondheim – Storlien and Oslo – Trondheim services.
Launching the subsidiary on March 20, SJ CEO Crister Fritzson said Sweden had gone through the same market opening process almost 30 years ago. Since then there has been a double of ridership, and SJ built up 'extensive experience of how to increase both rail travel and customer satisfaction in a profitable and sustainable way', he said.
SJ said Norway has not seen the same growth, but the company sees 'great potential' associated with the investments being made in rail infrastructure.
Fritzson said it was 'quite natural that we want to include the Norwegian rail market in our core business when the opportunity is given', pointing out that SJ had operated in Norway since before the end of the personal union of the two kingdoms in 1905. 'It is a natural geographic extension and we already have all the necessary permits', he said
Berit Kjøll, Executive Vice-President of Huawei Norway, has been appointed Chairman of SJ Norge and will recruit a management team. She has previously been CEO of airport train operator Flytoget and a board member of Avinor, SAS, DNB, Hurtigruten and the Norwegian Tourist Association.
The December 2016 issue of

Railway Gazette International magazine carried a full analysis of the Norwegian reform and tendering programme. This is available to subscribers via the digital archive.