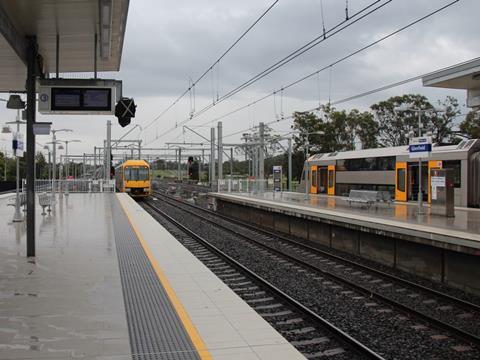 AUSTRALIA: New South Wales Premier Mike Baird and Minister for Transport Gladys Berejiklian officially opened the South West Rail Link on February 8, adding a further 11·4 km to the Sydney Trains suburban network.
Under construction since 2011, the line diverges from the Sydney – Melbourne main line at Glenfield and heads west to Leppington, serving one intermediate station at Edmondson Park. There is also an EMU stabling facility at Rossmore, beyond the new terminus. According to Baird, the branch has been completed a year ahead of schedule, and the final cost of A$1·8bn is A$300m under budget.
The junction station at Glenfield was completely rebuilt in 2011-12, with four tracks serving two island platforms. Flying junctions have been created at both ends of the station, grade-separating the lines to East Hills and Liverpool at one end and the SWRL from the main line at the other. A separate freight bypass was built as part of ARTC's Southern Sydney Freight Line.
The SWRL is initially being served by a half-hourly shuttle from Liverpool, offering connections at Glenfield into T2 services to and from central Sydney via East Hills and the Airport or via Clyde and Strathfield. Passengers can also change at Liverpool into T5 services between Campbelltown, Parramatta and Schofield or T3 services on the Bankstown line.
As MP for West Sydney, Baird said 'the communities of South Western Sydney have waited far too long for a modern, reliable train line. This line is a huge boost for Sydney's fastest growing region.' Berejiklian added that work had already started on an extension from Leppington to Badgerys Creek, where Sydney's second international airport is being developed.