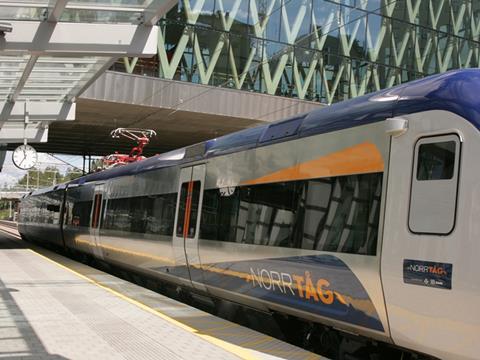 SWEDEN: The Norrtåg group of local transport authorities has selected Tågkompaniet for a contract to operate regional passenger services in northern Sweden from August 20 2016 until the December 2025 timetable change.
The contract covers six routes:
Umeå – Sundsvall;
Storlien – Sundsvall;
Vännäs – Umeå;
Lycksele – Umeå;
Luleå – Umeå;
Kiruna - Luleå.
'A consistent theme in Norrtåg's procurement was a desire for stable and punctual services', said Tågkompaniet CEO Mats Gustafsson.
The contract includes fleet maintenance, which will be undertaken by EuroMaint on behalf of the operator. The X11, X62 Alstom Coradia Nordic and Y31 Bombardier Itino fleets are to be maintained at Norrtåg's workshop in Umeå, while the X50 fleet will be maintained in EuroMaint's Notviken workshop in Luleå.
The services are currently operated by the Botniatåg joint venture of Arriva Östgötapendekn (60%) and SJ (40%), with maintenance undertaken by Mantena.