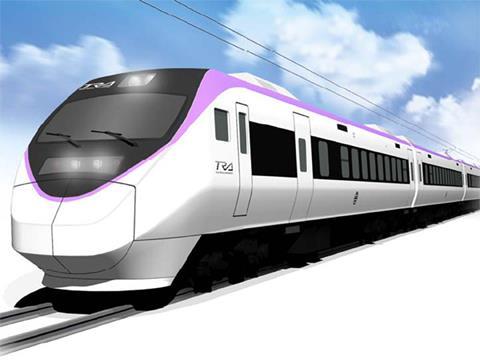 TAIWAN: Japanese suppliers Sumitomo Corp and Nippon Sharyo confirmed on January 6 that they had signed a NT$10·6bn contract to supply Taiwan Railway Administration with 17 inter-city tilting trainsets capable of operation at 150 km/h.
Under the deal agreed on December 31, the eight-car EMUs are due to be delivered in 2012-14 for use on Taroko Express services between Taipei and Hualien on TRA's 1 067 mm gauge east coast route. The aluminium-bodied trains will feature wheelchair access, luggage and bicycle spaces and onboard vending machines.
The east coast line was electrified at 25 kV 60 Hz in 2003, and TRA introduced its first tilting trains in April 2007, helping to shorten journey times and making rail more competitive with the island's improved roads.
TRA acquired an initial build of six eight-car tilting trainsets from Marubeni and Hitachi to launch the Taroko Express services. The railway had planned to exercise an option for a further 48 vehicles in 2009, but called new tenders after it failed to agree terms with the suppliers because of changing exchange rates. Three rounds of bidding were held in the new competition, but most bidders were reportedly unable to meet TRA's requirements in terms of price and delivery schedule.