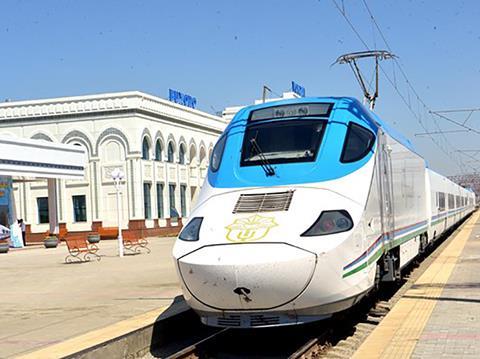 UZBEKISTAN: A Talgo 250 Afrosiyob trainset ran to Bukhara for the first time on August 25, marking the completion of a project to modernise and electrify the 256 km route from Samarkand to permit higher speeds.
The US$400m project was authorised in March 2015 and work began the following month. As well as the installation of 25 kV 50 Hz electrification equipment, a second track has been laid on the 146 km route from Marakand near Samarkand to Navoi, a new station building provided at Kattakurgan, the 93 km Navoi – Bukhara section has been modernised and Bukhara station has been updated to international standards. More than 500 km of fencing has been installed along the entire route.
National railway UTY said 700 km of line has now been modernised for higher speed running using the Talgo trainsets. It said the extension of Afrosiyob services from Samarkand to Bukhara would reduce the journey time on the 600 km route from Toshkent from more than 7 h to 3 h 20 min, and also increase passenger capacity by 36%.
Talgo supplied two trainsets for the 344 km Toshkent – Samarkand route in 2011, and in 2015 was awarded a €38m contract to supply a further two trainsets in 2017.