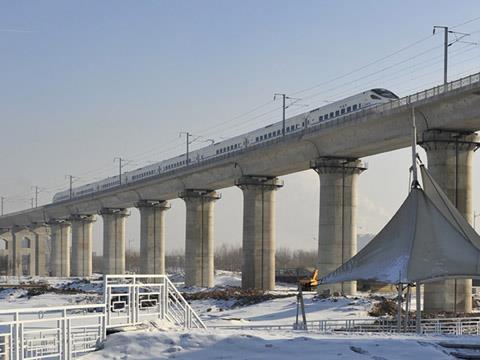 CHINA: Test running on the Harbin – Dalian Passenger-Dedicated Line commenced on October 8, when the first train was dispatched from the new Harbin West station at 07.30.
Designed for operation at up to 350 km/h, the 921 km line has been under construction since August 2007, at a cost of 92bn yuan. Tracklaying was completed in December 2010, but opening was delayed by the suspension of work on high speed line projects. Following three or four months of test running, revenue services are now expected to begin at the end of 2012 or in early 2013.
Linking 24 stations including Changchun, Shenyang and Anshan, the line connects with the original Shenyang – Qinhuangdao PDL and the new Changchun – Jilin line. It is to be operated with CRH380B trainsets, which are expected to achieve end-to-end journey times of around 3 h 30 min, cutting 9 h off the best timing on the existing line.
The most northerly high speed line in China has been designed to cope with the region's severe climate, where winter temperatures can typically drop to -38°C. Snow melting equipment has been provided along the route, and the track structure has been modified to withstand the very low temperatures. Lineside facilities including substations have also been protected against freezing.
The line is expected to provide a significant economic boost for the three northeastern provinces of Liaoning, Jilin and Heilongjiang. It will also free up capacity on the existing line for a further 60 million tonnes of freight per year, according to the Ministry of Railways.