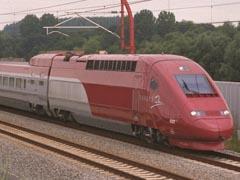 EUROPE: Passengers travelling on 300 km/h Thalys services between Paris, Brussels, Amsterdam and Köln have been able to use on-board wi-fi since May 14. A quarter of the Thalys fleet had been fitted by that date, and all sets will be equipped by the autumn.
Access to the ThalysNet portal and the internet is included in the ticket price for Comfort 1 passengers. Those in Comfort 2 class enjoy free access to ThalysNet but pay €6·50 for 60 min connection time per trip or €13 for unlimited access during the trip.
Wi-fi on board Thalys trains is provided under a managed services contract by a consortium of Nokia Siemens Networks, Telenet and 21Net. The consortium designed the cross-border wireless network, supplying, installing and maintaining the equipment. Nokia Siemens Networks handles project management, providing WLAN technology and managing special leased bandwidth along the routes. 21Net implements and manages bi-directional satellite connectivity, providing broadband access for passengers. Telenet runs the commercial internet service, maintains the portal and provides customer support.
Thalys passengers holding a Navigo smart card for travel in the Ile de France region have been able to use the card to travel on Thalys services since April 22. During a two-month trial passengers register on the Thalys website before receiving an identification number which must be quoted before purchasing travel via telephone or internet. An SMS message and e-mail confirms the transaction, and the reference number is sent to the train manager before departure. The passenger presents the Navigo card to the train manager, who verifies the validity of the booking.
Thalys is now studying extension of the ticketless travel concept with Brussels public transport operator STIB.