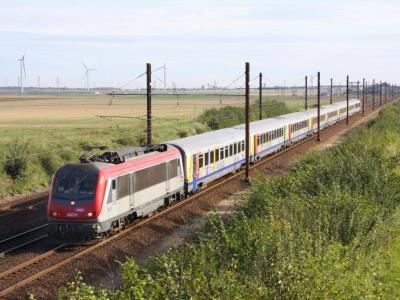 EUROPE: From October 17 customers will be able to book berths on the first open-access passenger service to operate on the French network, an overnight train from Paris to Venezia that is to be introduced on December 11 by the Thello joint venture of Veolia Transdev and Trenitalia.
Announcing the Thello brand name on October 6, the partners said the southbound service would depart from Paris Lyon at 20.43 each day, and arrive at Venezia Santa Lucia at 09.34 the following morning, having called at Dijon, Milano, Brescia, Verona, Vicenza and Padova. The northbound train will leave Venezia at 19.57 and is scheduled to arrive in Paris at 08.14.
Three classes of accommodation will be offered, the most economical being for travel in couchette compartments containing six berths. There will also be four-berth couchettes, as well as sleeping compartments for between one and three passengers, equipped with a private shower and toilet. Thello says some couchette compartments will be reserved for female passengers travelling on their own.
Looking to bring new standards of passenger comfort to the route, Thello will be providing a 36-seat restaurant car on each train, operated by LSG Sky Chefs and serving menus devised by leading chefs. There will also be a bar/buffet counter as well as a trolley service for couchette passengers.
Test running is already underway in France with a three-system Class 36000 electric loco which has been uprated from 160 km/h to 200 km/h operation. Thello is to lease a batch of these locos from SNCF subsidiary Akiem to haul its overnight trains; they were built to haul cross-border freight services between France and Italy.