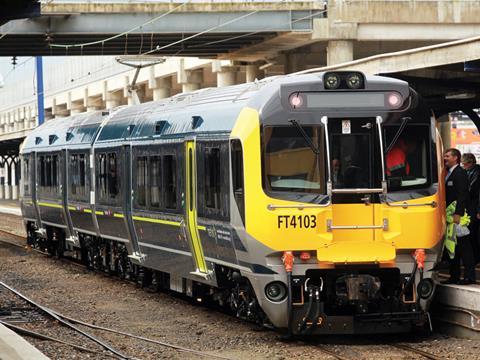 NEW ZEALAND: Greater Wellington Regional Council signed a contract on March 15 for Transdev Wellington Ltd to operate suburban rail services in the capital.
Transdev Wellington is a joint venture of Transdev, which has operated rail services in Auckland since 2004, and Hyundai Rotem which will maintain the Metro Rail fleet of Matangi 1·5 kV DC electric multiple-units it has supplied to Wellington. The partnership had been named preferred bidder in December, beating Serco and a Keolis Downer-KiwiRail joint venture.
The new operator is to take over from incumbent state railway KiwiRail on July 1. The contract will run for nine years, with two three-year extensions subject to the achievement of performance targets including on-time performance and customer satisfaction. GWRC expects the contract to provide savings of around NZ$100m over the 15 years.
'This is the first public transport contract in the Wellington region that is truly performance-based and drives true partnering', said GWRC Chair Chris Laidlaw. 'And it is just the beginning, the council will follow with new bus services and contracts over the next two years. We will continue to see improvements and real value for money.' There will also be a move to a single public transport brand, Metlink.
'Our team is working extremely hard towards the service delivery start date to ensure a seamless transition with no disruption to staff and customers', said Transdev Acting Managing Director, Wellington, Alan Bannister. 'We are already working closely with KiwiRail, GWRC and the Rail & Maritime Transport Union to help facilitate this. KiwiRail has worked hard to establish a rail network that is in a good position in terms of performance and high customer satisfaction ratings. We are looking forward to building on these successes to drive even greater customer satisfaction, punctuality, reliability, and patronage that contributes to the region's prosperity and growth.'
Law firm DLA Piper advised GWRC and its subsidiary Greater Wellington Rail Ltd on the deal.