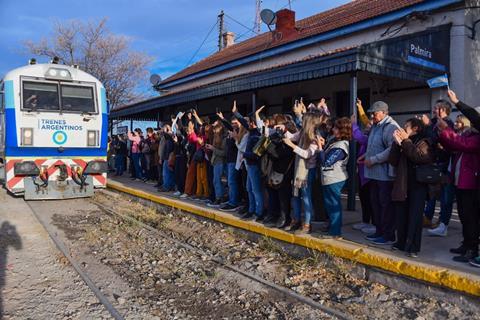 ARGENTINA: On June 2 Trenes Argentinos restarted long-distance passenger services on the Justo Daract – Palmira section of the 1 676 mm gauge San Martín main line following a 30-year hiatus.
Services running west from Buenos Aires to Mendoza ended in 1993, but were reinstated as far as Justo Daract near Mercedes in San Luis province in July 2022.
Palmira lies around 30 km southwest of Mendoza, but much of the former railway alignment leading into the provincial capital has been converted to a light rail route. The stations at Beazley, La Paz, Libertador General San Martín and Palmira have been repaired, with work to the buildings and platforms as well as lighting improvements.
Trains take 28 h 20 min to cover the 1 070 km from Buenos Aires' Retiro terminus, although Trenes Argentinos says further infrastructure improvements along the route will enable it to reduce journey times.
At present the passenger service runs once every two weeks, departing from the capital at 12.20 every other Friday and returning from Palmira at 10.00 on Sunday. The trains convey sleeping accommodation as well as seating coaches.