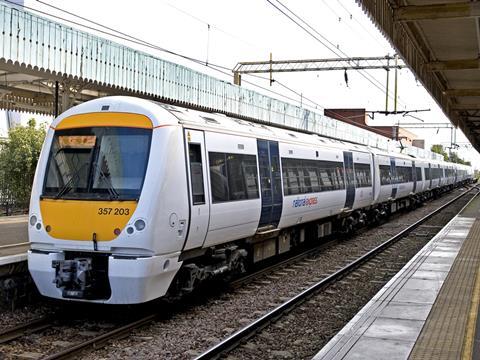 UK: An agreement in principle for National Express Group to sell its c2c passenger franchisee to the Trenitalia subsidiary of Italian state railway group FS for £70m was announced on January 11.
NEG's c2c holds the Essex Thameside franchise to operate commuter-focused services into London Fenchurch Street, carrying around 37 million passenger-journeys/year using a fleet of Bombardier electric multiple-units. The current franchise runs from 2014 to 2029, with the operator expected to pay the Department for Transport premia of around £1·5bn, with a net present value of £1·1bn.
The sale of c2c requires the approval of the DfT, which National Express said it expects 'within the next three to four weeks'. The new owner would retain c2c's existing management and staff. The deal is expected to bring a 'small net profit' for NEG, which is being advised by Ashurst while BonelliErede and Stephenson Harwood are advising Trenitalia UK.
Trenitalia has been seeking to enter the UK rail market as part of FS Group's wider ambitions to be become an international multi-modal transport operator. In December 2015 it became the first potential new entrant to obtain a Pre-Qualification Questionnaire Passport enabling it bid for franchises. It held initial discussions regarding partnerships for future franchise bidding, before making an offer for c2c that National Express' board believes represents 'the best, and a fair' deal for shareholders.
The agreement only covers the c2c business. NEG's German rail operating activities are unaffected, and the group plans to bid for further contracts this year as part of its long-term growth strategy. CEO Dean Finch said the sale of c2c would 'allow us to pursue further growth opportunities in markets where we have seen strong returns in the recent years'. These include Spain, North America and North Africa, where a bid for the Casablanca tram operating contract is to be submitted on January 13.
Finch insisted that NEG was not turning its back on the UK rail sector. It retains its bidding passport, and has not ruled out participating in future franchise competitions which would be considered on a case-by-case basis.
'National Express has been immensely proud of c2c's transformation', said Finch. 'While this has, therefore, not been an easy decision, the board believes the transfer of c2c to Trenitalia UK presents opportunities for all concerned. We have been impressed by the commitment and interest shown by Trenitalia and are grateful for the support shown by DfT in this process.'
Trenitalia CEO Barbara Morgante said the FS Group sees 'significant chances to invest in UK rail' and is 'confident that British customers will benefit from our skill and capabilities developed in the highly competitive Italian market'. She said Trenitalia was 'closely monitoring the franchising programme' and intends to participate in future tenders.
Mick Cash, General Secretary of pro-nationalisation trade union RMT, was less enthusiastic about the announcement. 'This is yet another part of Britain's rail operations being sold off to a European state-owned outfit', he said. 'This time it is Trenitalia, an Italian operator, that is being given an open door to plunder passengers and the public purse to subsidise rail services in their own country.'