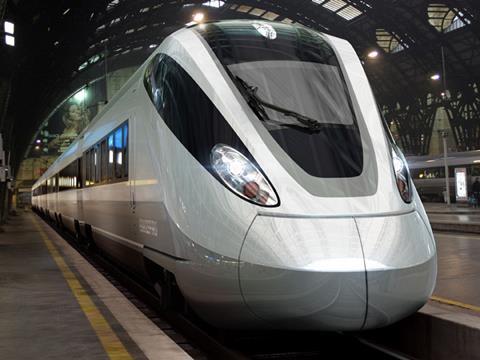 ITALY: Trenitalia signed a contract for 50 V300ZEFIRO high speed trains on September 30, having selected the joint bid from Bombardier Transportation and AnsaldoBreda on August 5. Award of the contract had been delayed pending a legal challenge from losing bidder Alstom Transport.
Designated ETR 1000, the trains are due to enter service from 2013. A prototype is due to be delivered in within 30 months, with the series trains following a year later. Production and commissioning will be undertaken in Italy at AnsaldoBreda facilities and Bombardier's Vado Ligure site. The contract is worth a total of €1·54bn, with technical leader Bombardier valuing its share of the work at €652m.
Each eight-car non-articulated trainset will have capacity for 600 passengers. Distributed traction will enable running in service at up to 360 km/h, with 'unusually high acceleration' to provide fast journeys on winding routes. They will meet interoperability requirements for cross-border services.
Bombardier says it has now won contracts to supply a total of 210 Zefiro trainsets since the first order in October 2007. China's Ministry of Railways has ordered 80 units for running at 250 km/h, including 20 sleeper trains, plus 80 trainsets suitable for 380 km/h.
Zefiro family train orders
October 2007 China Zefiro 250 sleeper 20 x 16-car; delivery from December 2008 to August 2010
October 2007 China Zefiro 250 20 x 16-car; delivery from February 2009 to August 2010
September 2009 China Zefiro 380 20 x 8-car; delivery 2012-14
September 2009 China Zefiro 380 60 x 16-car; delivery 2012-14
July 2010 China Zefiro 250 40 x 8-car; delivery from September 2010 to May 2011
September 2010 Italy V300Zefiro 50 x 8-car; delivery from 2013
Total 2 480 vehicles