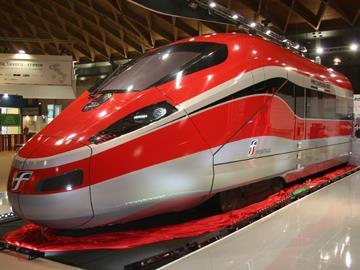 ITALY: Prime Minister Mario Monti unveiled a full-size mock-up of Trenitalia's next generation of high speed trains at the 'Rimini Meeting' summer festival on August 19, describing the Frecciarossa 1000 as a 'new technological jewel, made entirely in Italy'. On show in Rimini until August 25, the mock-up is also due to be exhibited at InnoTrans in Berlin on September 18-21.
Trenitalia is investing €1·5bn in a fleet of 50 ETR1000 trainsets, designated V300Zefiro by AnsaldoBreda and Bombardier Transportation. Now being assembled at the AnsaldoBreda plant in Pistoia, the first trains are scheduled to enter service in 2013.
According to FS, the Frecciarossa 1000 will be 'the fastest train ever mass-produced in Europe', with a design speed of 400 km/h. Trenitalia expects to operate them at up to 360 km/h on the Alta Velocità network, cutting the Roma – Milano journey time to 2 h 20 min.
With an overall length of 202 m, the eight-car train will have 469 seats plus two spaces for wheelchair passengers. It will incorporate an active lateral suspension, based on that developed for the Twindexx double-deck EMUs that Bombardier is supplying to Swiss Federal Railways. FS says the multi-system trainsets have been designed to operate 'across Europe', specifically in Austria, Belgium, France, Germany, the Netherlands, Spain and Switzerland.
Monti was accompanied at the launch by FS Chairman Lamberto Cardia and Group Managing Director Mauro Moretti, Trenitalia CEO Vincenzo Soprano and RFI Chief Executive Michele Mario Elia. Representing the manufacturers were Giuseppe Orsi, Chairman of Finmeccanica, Alberto Rosania President of AnsaldoBreda, and plus the CEOs of AnsaldoBreda Manfellotto Maurizio and Bombardier Transportation Italy Roberto Tazzioli, together with Franco Pietrini, Vice President of Bombardier's Rail Control Solutions Division.
Moretti emphasised that the Frecciarossa 1000 has 'an aerodynamic profile of absolute originality and effectiveness' and would have a very refined design of great elegance, with a focus on comfort, spaciousness and maximum accessibility. 'In addition to being an order of great economic value, the design and implementation of Frecciarossa 1000 will trigger a virtuous circle for the Italian railway industry and its supply chain, offering the opportunity for Italy to compete in world markets with a product that is second to none', he believed.
Tazzioli said meeting Moretti's requirements had been 'a challenge' for the partners to create 'a highly innovative product with new standards, both in terms of technology and efficiency.' Manfellotto highlighted 'four words and four images' which he believed represented 'a new emblem in the great tradition of Italian railway technology': safety, design, speed and creativity.